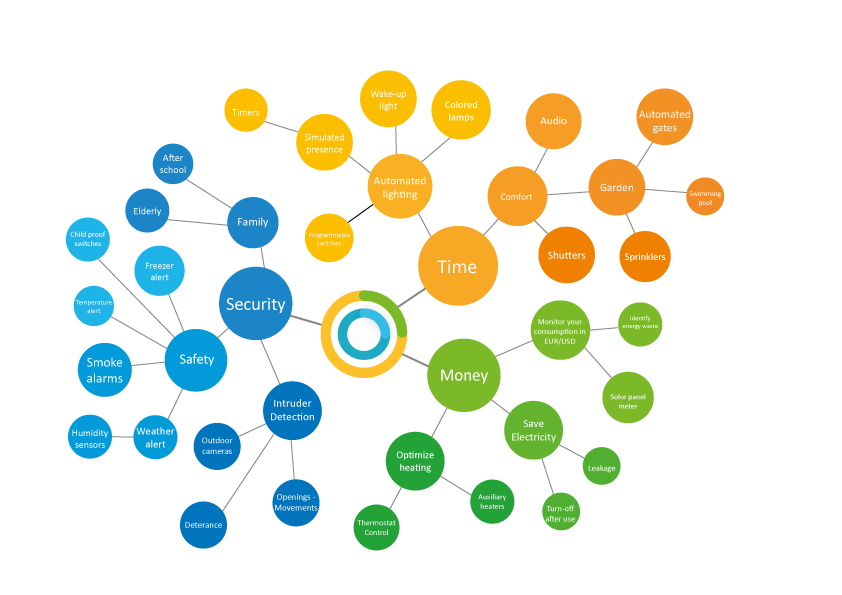 With Eedomus the possibilities are endless and extremely diversified! Hundreds of ways to serve you!
Choose the ones that bring you immediate benefits in time, money or security.
These ideas are to to stimulate your creativity, but your choices are unlimited!
Remote control

Monitor and control your home, with a laptop or your smartphone, from whenever you are in the world!

Free Web access and App for Android, iPhone, and iPad
For fragile persons

Use a RFID swip card to trigger specific actions
An alert button to warn your relatives (wired or radio)
Alert lighting (red Led)
Night security lighting (to avoid to stumble)

For children

Switch on the night light without getting out of the bed
Use battery switch, of risks
Keep an eye when your children are back from school
Videocontrol babies in their beds
Highly consuming equipments

Identify the affected equipments
Cut the stand by mode
Stop dangerous equipments

Also

Set up a timer
Monitor humidity in your wine cellar
Control your domestic garbage calendar
Optimize the activity of your air extractor
Connect your meters

Monitor your photovoltaic production
Follow your electric counters, globally
With a conversion in EUR-GBP per day!
And be alerted in case of excess usage
Detect leakages with your water counter!
And the weather

Be alerted in cases of strong wind or rains
Dectect flooding
or a heat wave
Build a giant thermostat

Your vacation house

Switch your boiler from unfreeze to comfort mode
Portable heater in thermostat mode or on-off mode
Freezing alert
For animals

Monitor an aquarium (camera, temperature, lighting)
Monitor roundtrips of your pets: opening sensor, cameras
Automate your multimedia environment

Broadcast sound notifications
Control your UPnP diffusion
Automate your infrared commands
Switch on/off your outisde speakers
For geeks!

Everything you need !
Follow your internet connection, your equipments and materials
Make the connexion with your connected objects easier: Koubachi, Netatmo, Hue, Karotz, XBMC, and more
Write your own scripts
Discover 150 pratical guides written by advanced users